Training - A Polite Dog is a Happy Dog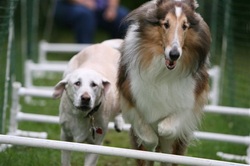 Training yourself and your dog is the greatest gift you can offer to both of you. Creating a pack-like environment for your canine, allowing them to feel safe with their pack leader, You, will enable them to achieve emotional balance which generates a more peaceful and well-behaved animal.
Susan is a positive, relationship centered trainer, always focusing on capturing and reinforcing the desired behavior. She has studied with Your Dogs Friend, The Coventry School, Capital Dog Training Center and Nan Marks. She is currently studying with Suzanne Clothier in Relationship focused training, has completed the Relationship Assessment Tool, RAT and Suzanne's trainers camp in upstate New York. She studies and incorporates the positive teaching styles of Pat Miller, Patricia McConnell and Karen Pryor. She has been accepted into the Karen Pryor Academy.
She is currently training individual clients basic obedience, a happy dog is a polite dog; coaches in reactive dog classes at Your Dogs friend; and assists Nan Marks in her good manners class at CDTC.
Susan's rescue dog, Grace has some reactive behavior due to her first few years living chained in North Carolina and then as a street dog, until she was rescued by Pet Connect Rescue and there she found her way to Susan. Grace has been Susan's greatest teacher and and as a result of their successful and steady strides, Susan will be specializing in reactive behavior.
Other Training Options
Washington Animal Rescue League
71 Oglethorpe Street, NW
Washington, DC 20011
202-726-2273
www.warl.org
The Coventry School
7165 Oakland Mills Road A-J
Columbia, MD 21046
410-381-1800
www.thecoventryschool.co
m
Capital Dog Training Center
2758 Garfield Ave.
Silver Spring, MD
CDTC.org
Your Dog's Friend Training Center
12221 Parklawn Drive
Rockville, MD 20852
Your Dog's Friend.org
CONTACT INFORMATION
301-793-6550
petsnpoets@gmail.com
---